Inside This Issue
From the Director's Chair -NRRA:  A Sure Bet!


NRRA News – February Pricing; Join us for Casino Night; Welcome Julia Lemay; FAQ's

School News You Can Use – Register your School for the 10th Annual School Recycling Conference; National Battery Day, Feb. 18th

NH the Beautiful – Equipment Grants, Signs and more!

NHDES – Solid Waste Operator Training Schedule

NH News – Plastics Problem, Town asks residents to separate what's recyclable and what's not; Common Man makes an environmentally sound change and more!

National News – Recycling News from across the Nation

Classifieds

NRRA Calendar
•••••••••••••••••••••••
~Recycling Fact of the Month~
Over a ton of natural resources are saved for every ton of glass recycled.
•••••••••••••••••••••••
FROM THE DIRECTOR'S CHAIR
Recycling Still Rules but the Rules are "a changin" -Daily or by the hour!
If ever there was a time that Recycling was valuable it is now when we face massive shortfalls of raw materials and ever-increasing landfill tip fees. We face single use plastics being produced at historically high levels and increasing pollution of the environment as a result. This is due in no small part to the lack of domestic infrastructure and markets for these materials.
The impact of the China Sword has managed to affect all market sectors and has now been recognized as having caused a permanent shift in the Recycling landscape that will last beyond the original hope of a 6-12 month bump in the road.
With Spring fast approaching (I hope), bumps in the road are something we New Englanders know all about. NRRA has been assisting more and more communities with their challenges like plastic, and mixed paper, and glass and will continue to reduce the impact of the bumps while looking for permanent solutions.
While we may have had to postpone a couple of meeting due to slippery conditions and members having to plow all night, the work goes on to verify specs for material for best pricing and alternatives that haven't been explored before or need to be revisited given the
market changes.
No matter what the odds or challenges, NRRA is a sure Bet!  Be sure to join us at the conference in May for a great lineup of workshops and be ready to try your hand at the Casino Festivities with your complimentary "NRRA Money".
•••••••••••••••••••••••
NRRA NEWS
The NRRA February 2019 Pricing Guide is Now Available!
The NRRA February 2019 Pricing guide is now available!  To access the newest NRRA Pricing guide CLICK HERE.
IMPORTANT PRICING ALERT:  Mixed Paper Pricing (loose, bales, picked-up or delivered) is currently at a COST to Members.  There are a number of ways NRRA can help until the fiber market improves, please call us if you have any questions or concerns.
As a reminder, this is simply a guide.  For true, up-to-date pricing, please contact your NRRA Member Services representative.  This guide is password protected, if you need the password, please contact Stacey at smorrison@nrra.net.
******************
Try your luck at NRRA's 2019 Annual Recycling Conference- CASINO NIGHT!

NRRA is very pleased to announce an exciting new event at this year's 38th Annual NRRA Conference…..Casino Night in the Ballroom!
Please be our guest on Monday, May 20th from 6 to 8:30 PM -as we welcome you to the NRRA Casino (DoubleTree Ballroom) – Each Casino Night guest will be provided with $2,000 worth of "NRRA" money to use and you can't lose! There will be 5 grand prizes to the top chip winners at the end of the night but everyone will be winners after a few hours of risk-free fun. Texas Hold 'em? You bet. Black Jack- Why Not? Craps? Of Course! Roulette-Red or Black? And don't forget the slots! Let's see who can count the cards and roll with the odds! Cash Bar and hors d'oeurves provided. Who says recycling isn't fun?
Don't bet on the House – Bet on Recycling! It is a sure bet.
(This event is free to all conference attendees & exhibitors and pre-registration is not required for the Casino Event)
Conference Registration is NOW OPEN!!  Register Early for the Best Deals!
On-Line Registration is NOW OPEN!  We are still lining up our workshops and putting together some exciting events so the "Registration Brochure" isn't yet available but we encourage you to sign up today to take advantage of our Early Bird Discounts!  We've just announced our 2019 Keynote Speaker, Katherine Shayne.
Be sure to keep checking our 2019 Conference Page and your email for updates!  We are currently still accepting presentation proposals for speakers and workshops so if you have an idea for a workshop or you know someone who would be a great speaker for this year's conference, please let us know!  This is YOUR conference, help us make it the best one yet!
Do you Know an Outstanding Recycler? Nominate them for an NRRA Award!
NRRA Is now accepting Nominations for the Following Awards to be presented at our 38th Annual Conference Awards Luncheon on Monday, May 2oth.  If you'd like to submit a nomination, please Click Here to Download the Nomination Form.
Possible Award Categories are as Follows:
Recycling Rookie of the Year (A new Transfer Station/Recycling Center Manager, Supervisor or Operator)
Outstanding Recycling Facility
Outstanding Recycling Brochure or Website
Sami Izzo Outstanding Recycler of the Year
******************
NRRA Welcomes Julia Lemay!
NRRA Welcomes Julia Lemay! As NRRA's School CLUB Special Project Coordinator,  Julia will be working closely with Gwen Erley, Sarah McGraw and Cindy Sterling.  Her main focus will be direct outreach to schools across the state but she will also be assisting with workshops, presentations and some of NRRA's VT SWIP and USDA Grant work.
Julia considers herself much of an Environmental Scientist. She has a Bachelor of Science in Biology and notable experience in both clinical and environmental laboratory settings. She spent time as an after school program director and respite caregiver. She enjoys teaching children and is very excited about her upcoming position involved in youth education at the NRRA. Julia is eager to help make the world a greener place and contribute to a more sustainable future.
******************
From Heather Herring's Desk…FAQ's
As most of you may know,  Heather Herring joined the NRRA Member Services Team in December.  Since then she's been busy "learning the ropes", making site visits and moving recyclables to market for our Members.  She has also been tasked with creating a new "Frequently Asked Questions (FAQ)" section which now appears on our website and which we will also feature in FOS on occasion.  Heather will address any and all FAQ's through her new "alter ego", Scrappigail Van Buren:
We often get phone calls and emails from concerned residents and facility operators: Can I recycle this? How do I educate the residents about that? Well, Scrappigail Van Buren has some of the answers in her latest column, Dear Scrappy!
Dear Scrappy:
There is a fight going on in my family: Should we leave container caps on or off?
Signed,   Cap in Chichester
Dear Cap-
Plastic caps are recyclable
NRRA encourages residents to empty their containers
Rinse them with water
Recycle the containers with the plastic caps removed in the same bin at your recycling center
Contact your local hauler and processor to verify that their specs allow for cap removal because markets can vary
The reasons we recommend that caps are removed from containers:
If some liquid remains in the bottle, it can cause pressure in the containers when they are baled
It can also create a mess when the liquid drains from the container when baled
Questionable liquids can cause the staff to toss a container into the waste instead of being recycled
Some specs allow caps to be left on containers. But NRRA's recommendation is to remove caps and educate residents with signage for cleaner recycling.
Dear Scrappy,
We see a lot of wrapping paper in our Mixed Paper bin at the recycling center. Is any of it actually recyclable?
Signed, Foiled in Fitzwilliam
Dear Foiled-
Non-foil wrapping paper is recyclable.
Anything with foil, glitter or ribbons is not recyclable.
NRRA cautions that most used wrapping paper is contaminated with foil, ribbons and the paper is made from such low quality and high levels of ink. The paper is so light that it doesn't affect the weight of a bale in the market. Unless you are very strict, it is best to put used wrapping paper in the waste instead of recycling it. Some mills will not accept bales when they see with wrapping paper in it.
If you wish to cut down on waste, buy or make cloth bags or buy reusable paper gift bags
******************
It's Never Too Early to Think Spring!!  Sign up Today for the  Annual NRRA Compost Bin Sale!!
Click Here to Download the 2019 Participation Packet
Backyard Composting is becoming a very hot topic in the recycling and waste management forums.  It's even a primary project that NRRA will be exploring with our newest USDA Grant, YIMBY – Yes In My Back Yard.  With landfills nearing capacities and the cost of hauling and disposing municipal waste (trash) skyrocketing, it's time we really begin to consider some very important facts about Back Yard Composting.
Did you know…
Composting your yard waste and kitchen scraps and removing them from your trash can save your town hundreds and, possibly, thousands, of dollars just by decreasing the weight that these materials adds to the trash by as much as half!
Composting transforms waste into a valuable soil amendment, saves space in landfills, saves money on trash disposal, teaches students to be better environmental citizens, and actually helps slow climate change.
Composting at home is inexpensive and easy
Use of compost reduces the need for artificial fertilizers and pesticides
Compost Bins and Piles DO NOT need to smell bad.  If they do, then they simply need more oxygen and some aeration.
Compost enriches soil, helping retain moisture and suppress plant disease and pests.
A rain barrel can save about 1300 gallons of water during the peak summer months and can lower your water bill by about $35/month
In recent years, we've received a lot of feedback regarding the timing of our sale which typically falls in mid February when people are still too buried under snow to even think about their gardens and yards.  This year, we hope to increase sales/interest by extending our sale.  We are now accepting Participation Forms for orders of full pallet/case orders of compost bins (20 per pallet), rain barrels (15 per pallet), kitchen pails (26 per case) and compost turners (35/case).  Final Orders are not due until April and deliveries will take place in late May.
If you belong to a garden club, or know of someone who does, this is a great fundraising opportunity for not only you but your school club, your girl scout troop or other organization.    Please contact us at info@nrra.net to be sure to get on our mailing list so that you can get up to date information about this sale and how to participate!
•••••••••••••••••••••••
SCHOOL NEWS YOU CAN USE
Register your School Today for the 10th Annual NRRA School CLUB Conference!
New Hampshire Schools are eligible for a 50% registration discount!! 
Educational Workshops * Exhibitors * Prizes * Awards * Activities.  Fun and educational for Teachers, Students and Administrators.  A Great "End of the School Year" field trip!
Click HERE to register your school on line today!
For more information or to apply for the NHtB Registration Grant, contact Gwen Erley at theCLUB@nrra.net
Sharpen Your Pencils!
NH Schools – Put on your thinking caps! NH the Beautiful also added a new
$500 School Recycling Innovation Grant in 2018. Start planning your essays now and maybe your school will receive a check at the next Conference!
******************
Get Charged Up for National Battery Day 2019
Annual awareness day drives consumer engagement and education of battery recycling across U.S.
Batteries power our everyday lives and provide many conveniences. While we use batteries and products with batteries daily, many individuals don't know how to properly dispose of them once they reach their end-of-life. The answer: responsible recycling.
February 18th marks National Battery Day, the perfect time to jump-start your battery recycling efforts. We're proud to partner with Call2Recycle on this annual awareness day to spotlight the importance and ease of battery recycling.
Get Charged Up on National Battery Day by collecting your old household batteries and taking them to a Call2Recycle drop-off location. You can also visit participating retail partners like The Home Depot and Lowe's, which accept rechargeable batteries and cellphones.
Green up your community and spread the word about National Battery Day 2019! To access promotional materials and information, visit Call2Recycle's National Battery Day page. To learn more about safe battery handling, management and recycling, visit Call2Recycle.
•••••••••••••••••••••••
NH THE BEAUTIFUL

NH The Beautiful now offers 18 Gallon Curb Side Recycling Bins as well as ClearStream Containers (and replacement bags).

Click the links below to find out how you can get yours!
Click HERE for Curb side Recycling Bin Info-please note bin pricing has increased ONLY MINIMALLY ($0.20) due to the increase in the size of the bins
Click HERE for ClearStream Recyclers & Bag Info
 *****************
Grants Program for NH Municipalities
Do you need equipment for your facility? A Floor Scale?  Storage Containers? 
All New Hampshire municipalities are eligible to apply for grants toward the purchase price of recycling equipment.  For more information or to apply for a grant, go to http://www.nhthebeautiful.org/wp-content/uploads/2014/03/equipment_grant_app_710.pdf, print & fill out the form and fax it to 603-736-4402.  If you do not have access to the internet, please give us a call, and we can fax or mail a form to you.   The next NHtB Board Meeting will be held on Thursday, February 21st.  If you wish to apply for an NHtB Equipment Grant, please send in your application no later than February 18th. 
*****************
NH the Beautiful Provides FREE Facility Signs

All NH municipalities are eligible to apply for FREE facility signs.  NHtB has been providing professional looking signs for NH municipalities since 1983.  Under the NHtB Sign Program, New Hampshire Municipalities are all eligible to apply for signs (60 points each fiscal year or until funds run out).  The NHtB fiscal year runs November 1-October 31.  If you have any questions, feel free to contact Stacey at 603-736-4401 x.20. To maximize your points, you can also order "recycled" signs or overlays for existing signs!
For a complete list of sign options and to order signs, click here  Complete Sign Packet.  Simply print the forms you need, mail or fax them to 603-736-4402.
Please NOTE!!! You can only use points to order signs that are on the list.  Words can be removed, but nothing can be added.  Custom signs are available for purchase.  Contact the NRRA for details.
*****************
Visit NH the Beautiful on Facebook and Twitter
 To see all the latest that NH the Beautiful is doing for NH check out their Facebook Page! Click the following link –  https://www.facebook.com/pages/NH-The-Beautiful/253682871403932
We are also on Twitter and Instagram
NH the Beautiful, Inc. (NHtB) is a private non-profit charitable trust founded in 1983 and supported by the soft drink, malt beverage, and grocery industries of New Hampshire. By offering municipal recycling grants (over $2.5 million) and signs, anti-litter programs, and technical assistance to recycling programs, NHtB is a unique organization that represents a voluntarily-funded alternative to expensive legislation intended to achieve the same end results.  NHtB supports the NRRA School Education Program (the Club).  The Northeast Resource Recovery Association (www.nrra.net) administers the New Hampshire the Beautiful programs.
•••••••••••••••••••••••
NH DES NEWS
Updates from Tara Mae Albert, NHDES Solid Waste Operator Training Coordinator
Upcoming Webinar:  "Responding to Environmental Emergencies Using Composting as a Management Tool" on February 7, 2019 1:00-2:00 PM EST
This presentation will share the outcomes and lessons learned from a fall 2018 Unusual Mortality Event (UME) involving seals, response work to address poultry mortalities in the aftermath of Hurricane Florence, and debris management activities that took place in the U.S. Virgin Islands following Hurricane Irma and Maria in 2017. Mark King, Maine Department of Environmental Protection (ME DEP) will be the presenter. Mark is a well-respected expert in composting and debris management.
To register, go to:  https://attendee.gotowebinar.com/register/4490102418676727811.
The 2019 calendar can also be found at https://www.des.nh.gov/organization/divisions/waste/swrtas/workshop.htm.  You may also go to that page for a list of third-party vendors with online training opportunities.  And, as always, you can contact me with any questions at Tara.Albert@des.nh.gov or (603) 271-3713.
•••••••••••••••••••••••
NEW HAMPSHIRE NEWS
A plastic problem: Towns ask residents to separate what's recyclable, what's not
By David Brooks, Concord Monitor
When it comes to the reason behind a new requirement for people to separate the plastics they bring to the four-town B.C.E.P. transfer station, numbers tell the story.
"I can get maybe 3½ to 5 cents a pound" for most types of plastic if they can be sold at all, said facility administrator Lisa Stevens, whereas for the best type of plastic, known as numbers 1 and 2, "I can get 29 to 42 cents a pound."
Want more numbers from the Pittsfield facility, which also takes trash from Chichester, Epsom and Barnstead? How about these:
In 2010, the facility sold 79 tons of plastic. Last year, it sold only half as much, 42 tons, even though the amount of plastic being brought to the transfer station keeps increasing.
"Everything is plastic now. Everything goes in a Ziploc bag. And who uses a wooden toilet seat any more? They're all plastic. And water – they want you to have a water bottle and they're all plastic," Stevens said.
With less plastic being sold, more is being shoved into landfills. The facility doesn't measure how much plastic gets trashed, but here's an indication: In 2010, the facility landfilled a total of 2,583 tons of waste. In 2018, it sent 14 percent more: 2,945 tons.
B.C.E.P. is not alone in this situation. All dumps and transfer stations are struggling with the collapse of most markets for recyclable material, mostly caused by China's clampdown.
Back in 2010, China would buy almost anything to use as raw material in manufacturing. Back then, Stevens said, she could sell virtually every bit of plastic that residents dropped off, even large, bulky "rigid plastic" items like chairs, buckets and toys.
But China has gotten much, much pickier. Today, bales of plastic going to market have to be pristine, consisting only of types 1 and 2 plastic such as water bottles or milk bottles, if there's any hope of selling them. All the other types of plastic – there are seven of them – that are tossed in B.C.E.P.'s recycling bin has to be separated out by staff and sent to the landfill.
That's why the station is changing its recycling system. Starting next, people will be asked to separate out the plastic themselves. They'll separate sellable plastic into one of three bins and toss out the rest.
One bin will take Type 1 plastic, known as PET, which is used in soda bottles; one will take Type 2 plastic known as HDPE, best known for milk jugs; and one will take HDPE that has been dyed a color.
Everything else, from cling wrap to bottle caps to PVC piping, goes in the trash.
"If I had unlimited storage and I could hold it until the market comes back, or somebody develops technology for some new use of it, then I would," Stevens said. "But we don't."
*****************
The Common Man removes plastic straws company-wide, makes the switch to paper
The Eagle Times Jan 2019
ASHLAND — The Common Man family in New Hampshire has removed all plastic straws from its restaurants statewide, investing instead in a paper straw alternative for guests.
The almost 50-year-old hospitality company has closely monitored the worldwide movement to cut down or ban use of plastic straws in restaurants, because of their slow break down in landfills and threats to wildlife and the environment.
The Common Man's Chief Operating Officer Sean Brown said their restaurants moved to an on-demand distribution of straws in 2018, giving plastic straws only when guests requested them, but in alignment with some of the company's other environmental initiatives, and to meet guest needs, members of the operations team investigated other eco-friendly options.
In partnership with vendor Central Paper Products Co., Inc. in Manchester, The Common Man found a good fit with Hoffmaster® paper straws that are made from Forest Stewardship Council (FSC) certified paper, are certified Cedar Grove® compostable, non-toxic, chemical-free, BPA-free, uncoated, and FDA food grade-compliant. These paper straws have replaced all regular beverage and smaller cocktail straws at the 15 Common Man-owned restaurants across New Hampshire, as well as The Flying Monkey Movie House & Performance Center in Plymouth. The Common Man's sister company at the Hooksett Welcome Centers is exploring options.
*****************
How Small Cities Around the Country are Fighting to Save Recycling
Katie Pyzyk, WasteDive
Solutions to preserve access and reduce contamination are emerging from municipalities, partners and citizen-led efforts in states such as Oregon, Virginia and New Hampshire.
Hardships caused by China's global recycling industry disruptions have been particularly acute in small U.S. cities and towns over the past year. But in the face of adversity, a number of them have devised solutions to keep recycling programs alive — at least to some degree.
While cities crunch the numbers and try to find economically feasible ways of retaining a recycling program — reverting to a depot drop-off system in lieu of curbside collection, for instance — citizens are also stepping up. From organizing parking lot glass recycling events to biking around town picking up material, local businesses and citizens are finding their own ways to contribute.
"This is the secret to success, looking at it from a grassroots, community-based level," said Laura Leebrick, community and governmental affairs manager for Oregon-based Rogue Disposal & Recycling.
The large and small of it
While the entire North American recycling industry has felt some effects of China's scrap import bans and restrictions, municipal pain has, for the most part, been realized in the form of increased collecting and processing service fees. Smaller cities, however, are feeling the brunt of the blow — their curbside collection programs have derailed, and some have folded altogether.
Thus far, most large cities have been able to protect their residents from the worst of the China-related fallout. But small cities, especially rural ones, have less margin, as recently highlighted by the Pew Charitable Trusts. They may feel pressure to simply end curbside collection rather than wait the weeks or months necessary to ride out the storm – especially because that storm may not pass.
Small municipalities now have to decide what to do "given the reality of China and that it's not changing," said Mike Durfor, executive director of the Northeast Resource Recovery Association (NRRA). "People have figured out this is a long-term deal."
"Everyone is being impacted — it's just taking a longer time to affect larger cities…. It's a trickle-down effect," explained Harsit Patel, business services manager for Harrisonburg, Virginia's Department of Public Works. Harrisonburg lost curbside recycling in Feb. 2018 when its contractor, van der Linde Recycling, pulled out due to unfavorable market conditions. The contractor had "hoped for things to turn around, but they never did," said Patel, adding that Harrisonburg "didn't have a choice" but to end curbside collection.
The changes affect small cities more "because of our limited budgets," said Brian Steadman, public works superintendent in Milton-Freewater, Oregon. The city was among the first to end curbside recycling early last year when it lost a contractor as a result of market conditions.
Milton-Freewater managed to re-launch a recycling program in the form of a material drop-off depot with an attendant. That option allowed the city to keep the same rates for customers, rather than incur a massive expense or operate at a loss and hike rates to find a viable curbside collection solution.
"Curbside is so costly with just the physical handling of it.… But most of our citizens are very pleased with what we're offering right now, and it's working well," Steadman said.
Another reality is that small cities simply don't have the same volume of recovered material as big cities, making their curbside programs less economically viable. Small cities often lack alternative service options if they lose a recycling contractor, and soaring transportation costs make collecting recyclable materials in spread-out areas a less feasible venture than in large, dense cities.
In some cases, the issue doesn't necessarily lie with a municipality's size, but rather "its geographical location and also politics," said Kristan Mitchell, executive director of the Oregon Refuse & Recycling Association. "I think it depends on the geographical location: How far away are you from a market? And how much is your community willing to pay?"
Medford, Oregon was also among the first cities to end traditional single-stream curbside recycling. Medford and neighboring cities are "quite distant from the Portland metro region, which is where recycling processors, the MRFs, are located in the state of Oregon," said Rogue's Leebrick.
The distance to processors and the low volumes of material generated "really put us in a pinch when China first started making its intentions known," she said. "We knew we were in for a rough ride, but we didn't know how rough it was going to be."
•••••••••••••••••••••••
NATIONAL NEWS
How to Solve the World's Plastics Problem: Bring Back the Milk man
Danielle Wiener-Bronner, CNN Business
t's the early 1960s. Girls are fainting over the Beatles, Sean Connery is James Bond and a revolutionary trend is sweeping the United States: Plastic.
Plastic is about to have its breakthrough moment in the food industry. The plastic milk jug, specifically, is on the brink of taking off: the "market potential is huge," the New York Times correctly notes.
To American families, a third of which are still getting their milk from a milk man, plastic is a wonder package. It's lighter than glass. It doesn't break. Unlike paper cartons, it's translucent. You can see how much liquid is left in the jug. With a plastic container, everybody wins.
Except for the milk man. And, as it would turn out, the planet.
Fast forward to now. Plastics are expected to outweigh fish in the ocean by 2050.  Marine life is choking on the debris: Microplastics are in our soil, our water, our air, getting into our bodies with potential consequences that we don't fully understand yet. Massive amounts of plastic have piled up in landfills, some emitting greenhouse gases and contributing to global warming over the seeming eternity they take to degrade. Plastics are threatening the health of the planet and its inhabitants, and they're not going away.
Procter & Gamble, Unilever, Nestlé, PepsiCo, Danone, Mars Petcare, Mondelēz International and others — some of the world's largest consumer goods companies — are partnering on a potential solution to limit future waste. They're working together on a project known as Loop, announced at the World Economic Forum in Davos, Switzerland on Thursday. It offers consumers an alternative to recycling — a system that isn't working well these days.
At this point, the partners are testing the waters. It's an experiment they'll roll out to several thousand consumers in New York and Paris this May, with plans to expand to London later in 2019 and Toronto, Tokyo and San Francisco in 2020.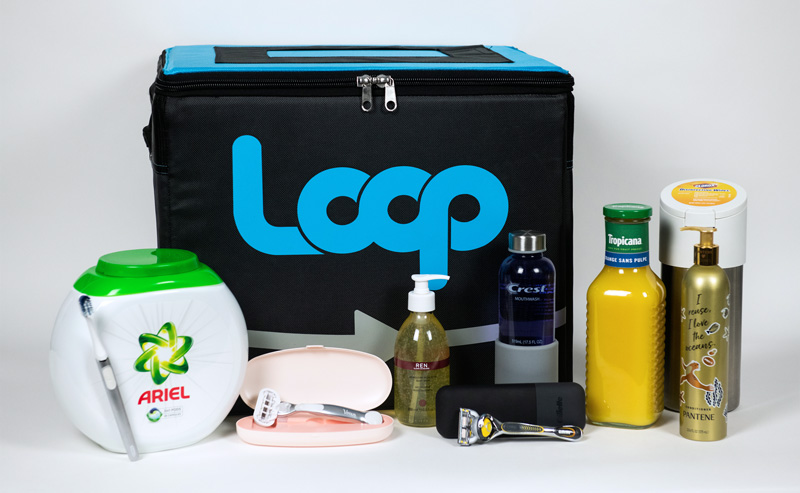 Loop is a new way to shop, offering about 300 items — from Tide detergent to Pantene shampoo, Häagen-Dazs ice cream to Crest mouthwash — all in reusable packaging. After using the products, customers put the empty containers in a Loop tote on their doorstep. The containers are then picked up by a delivery service, cleaned and refilled, and shipped out to consumers again.
In other words, it's the 21st century milk man — here to save the world from single-use plastics.
Maybe.
View Video and Read Full Article Here
*****************
Ryan's Recycling: The Future of  the Waste and Recycling Industry
Waste Advantage, In the Spotlight
Recycling nearly half a million can and bottles since he started the business, nine-year old entrepreneur Ryan Hickman is committed to educating people on how to recycle correctly and keeping cans and bottles from harming the environment.
At 3 ½ years old, Ryan Hickman, accompanied his dad to the local recycling center and cashed in a few small bags of cans and bottles. It was from this point on that he decided that he wanted to start a recycling business by giving plastic bags to all of the neighbors to save their recyclables so he could pick them up. Not only did the neighbors save their cans and bottles for Ryan, but so did friends, families and co-workers. Today, nine-year old Ryan has named his business Ryan's Recycling (San Juan, CA) and has customers all over Orange County, CA. With a passion for recycling, his goal is to keep the cans and bottles from reaching the ocean and harming the environment. He spends a part of every week sorting through cans and bottles from his customers and getting them ready to take to the recycling centers. His parents and grandmother help with the business by driving Ryan to his customers for pickups and helping lift the heavy stuff when he needs a hand. His parents also help with scheduling speaking events and managing social media. Ryan also speaks to people about recycling all over the country, including in November 2017 when he spoke at WE DAY (www.we.org) in Vancouver, Canada about his recycling.
Ryan's customers call the company during the week to schedule pickups on the weekends. Ryan and his dad drive from customer to customer loading up the truck and then bringing the cans and bottles back home to sort and take them to the rePlanet recycling centers. Customers and inquiries are made through the Web site or by e-mail. Although the closest rePlanet location closed due to recycling issues, Ryan now goes to the next closest center. "We feel it's a small inconvenience compared to not recycling at all and it ending up in the landfill," he says.
Reaching Out to the Community

Since he started the business, Ryan has recycled nearly half a million cans and bottles and Ryan has no plans of slowing down. "I've been lucky to be featured all over the world for what I do and I like inspiring others to recycle too. We get e-mails and letters from people all around the planet who have started recycling after hearing about what I do. I think it's super cool," says Ryan. "I just reach out to people to recycle better and let people know how recycling saves the environment."
Ryan expresses that he does get frustrated that people do not recycle properly, but he is always happy to help someone learn how to do it. "I wish more people knew how to recycle better. A lot of people just throw random stuff in the recycling bin like food containers and they cannot be recycled in the same way. I'm working with a non-profit organization called Recycle Across America and they are pushing to have standardized labels on recycle bins to make it easy for people to realize how to recycle right." Ryan participates in many community events throughout the year and people might see him anywhere under his ez-up canopy educating people on how to recycle better. This year Ryan's Recycling went to some really fun events like the local landfill for an Earth Day event and at one in Tustin to raise awareness for kids with special needs with friends from Hoopstars. "Ryan loves meeting people and helping them understand what can be recycled," says his dad, Damion.
Click Here for the Full Article
•••••••••••••••••••••••
CLASSIFIEDS
*If your town/municipality has equipment that you'd like to sell or a job posting you'd like us to include in our publication, please email your posting to Stacey Morrison at info@nrra.net*
For FREE

For Free:  Used Foremost Plastics Granulator
Location: Meredith NH Solid Waste Facility/Must pick up at this location
Call: Barry Weeks @ 603-279-8480 for more info.
*********
Free to a Good Home
Plastic Barrels available (must pick up) in Lancaster, NH.  First Come, First served.
*********
More NH Municipal Job Postings…
Can be found at:  https://www.nhmunicipal.org/Resources/ClassifiedAds
••••••••••••••••••••••
NRRA CALENDAR
February  2019
Wednesday, February 13, 2019 – NRRA MOM Meeting @ 9:00 a.m., Epsom, NH

Wednesday, February 13, 2019 – NRRA Board of Trustees Meeting @ 10:30, Epsom, NH

Monday, February 18, 2019 – President's Day – NRRA office CLOSED

Thursday, February 21, 2019 – NHtB Meeting @ 8:30 a.m. NRRA Offices
March 2019
Wednesday, March 13, 2019 – NRRA MOM Meeting @ 9 a.m., Epsom, NH

March 31, 2019 – ALL NHDES Facility Reports must be filed