INSIDE THIS ISSUE
 Important Notices
Epson unveils world's first in-office paper recycling system
Boulder County's Eco-Cycle in a slump, as losses mount and markets shift
2016 NRRA Conference: Call for Speakers-Presentation Proposals Now being Accepted
Find us on Social Media!
School News You Can Use
NH the Beautiful
Local Bottler and Recycling Organization Team up to Tackle Glass Recycling Problem
EPA honors Keene State for outreach campaign to reduce food waste
Massachusetts News
National News
Classifieds
NRRA Calendar
•••••••••••••••••••••••
~Recycling Fact of the Day~
There are more than 4,000 local Christmas Tree recycling programs throughout the United States.

•••••••••••••••••••••••
IMPORTANT NOTICES:
*Accounting Cut-off Notice:  NRRA will be cutting checks on December 28, 2015 for loads that have weights entered on or before December 18th.
*NRRA Offices will be closed on December 24th and 25th for the Christmas Holiday and also on January 1st for the New Year's Holiday.  Happy Holidays!
*Many of our vendors are implementing price increases effective January 1st.  If you have any questions about whether or not these increases will effect your Town, please contact your Member Services Representative for more information.
*Due to the Holiday, most of our vendors will be closed in the coming weeks.  This, combined with a recent trucking shortage, is causing delays in pick-ups.  Many companies are booking up to 6 weeks out!  Please plan accordingly,  CALL AHEAD!
•••••••••••••••••••••••
FROM THE DIRECTOR'S CHAIR
From all of us at NRRA we wish health and happiness during the holidays and especially for the upcoming New Year.  2015 has been a year of monumental personnel and market challenges for the NRRA Team who have weathered the storm with grace and professionalism, which is a hallmark of this 35 year old non-profit. As we look forward to 2016, I am encouraged by the progress NRRA is making on several fronts as well as the new developments that are being created in response to the changing market realities. The new USDA grant combined with additional contract work in Vermont and the continued work assisting members with their MSW and C&D contract extensions or rebids bodes well for the continued diversification of outreach that is at the core of the NRRA original charter. 2016 will see ongoing market fluctuations and changes that will be managed by NRRA as by no other organization nationwide, all possible as members continue to help other members. Thank you all for your support, your cooperation and your steadfast belief in this organization that works every day for the members. Here's to 2016, a new year with new opportunities.
Epson unveils world's first in-office paper recycling system
Waste paper goes in; 3 minutes later, sheets of new A4 paper come out—at 14 ppm!
Sebastian Anthony, Ars Technica UK
Printer giant Epson has developed an in-office paper recycling machine. Called the PaperLab, you put waste paper in, and then new, bright white printer paper comes out. Epson says this process is more efficient than sending paper to an off-site recycling plant, and it's also much more secure: the PaperLab, which breaks paper down into its constituent fibres before building them back up into new sheets, is one of the most secure paper shredders that money can buy.
The specs of the machine are truly impressive. Within three minutes of adding waste paper to the PaperLab, it starts pumping out perfectly white sheets of new paper. The system can produce around 14 A4 sheets of paper per minute, or 6,720 sheets in an eight-hour workday. The PaperLab can also produce A3 paper, and you can tweak the thickness and density of the paper as well: if you want really thin white paper, that's cool; if you want thicker paper for business cards, it can do that too.
Epson says that the PaperLab is the world's first paper production system to use a "dry process." Paper-making processes usually require a lot of water, but the PaperLab requires only a tiny amount of water to "maintain a certain level of humidity inside the system," so it doesn't need to be plumbed into the mains. Presumably there's a small tank of water that needs to be filled up occasionally—hopefully with normal tap water.
As for how the PaperLab actually works, Epson (unsurprisingly) doesn't provide a whole lot of details. The key seems to be two processes: fiberising and binding. The fiberisation—the process of turning the waste paper back into its constituent long, thin cottony fibres—uses an "original mechanism," which presumably means it's patented and rather novel. How this is done without water, and in just a few seconds, we're not sure. There could be some kind of reusable solvent? In any case, this first step completely destroys any data that may have been stored on the paper.
Updated: An Ars commenter found an Epson patent, published in 2013, that describes one method of mechanically "crushing and defibrating paper," and then using a cyclone of air to de-ink the crushed paper bits.
The second process is binding, where the fibres are stitched back together again. Epson says that different binders can be added to the machine, to create a variety of different papers: coloured papers, flame resistant papers, bright-white papers, or even fragrant paper. Where the fiberisation stage might feature a reusable solvent, the binding liquid will certainly need to be topped up.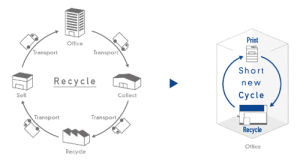 The PaperLab will go on sale in Japan in 2016, with other regions possibly coming "at a later date." Epson hasn't said a word about price, but it'll likely be very, very dear (think £50,000+). A prototype of the PaperLab will be demonstrated next week at the Eco-Products 2015 conference in Tokyo.
Boulder County's Eco-Cycle in a slump, as losses mount and markets shift
Shaye Castle, Times Call
An industry-wide slump in the recycling market has hit home: Eco-Cycle, Boulder County's principal recycler, has failed to reach its annual financial goals at any time during the last decade, losing nearly $1 million over the past 10 years.
More than $670,000 of those losses have occurred during the past four years, with red ink ranging from $156,313 in 2011 to $197,753 in 2014.
The agency does not expect to return to profitability until late 2016.
The last time the organization turned a profit was in 2010, when it netted $85,334, or 1.9 percent of total revenues. Eco-Cycle has been dipping into its reserves to cover the shortfall. Net assets finished 2014 were $3.35 million, down from $3.79 million in 2010.
As the contracted operators of the Boulder County Recycling Center, about half of Eco-Cycle's revenues come from the county. Reimbursements from the county have averaged $3.5 million annually since 2010. The remainder of Eco-Cycle's revenues come from various grants, commercial and government contracts and fees from provided services. The nonprofit has 67 employees.
"I hope within the coming calendar year to have significantly made up ground — maybe by next fall," said Eco-Cycle executive director and new Boulder Mayor Suzanne Jones. "I hope within the year that markets improve and we'll be bringing in more revenues than we're spending to do our mission."
In addition to hauling and processing recyclable materials, the organization also conducts extensive outreach and education efforts, including a 20-year partnership with local school districts.
"We're a nonprofit, so we spend money doing good things — like educating every school kid in Boulder County — that costs money and doesn't make money for us," she countered. "If we're not making money this particular year, we're still doing really important work."
Jones said Eco-Cycle aims for revenues that "cover our costs plus 10 percent in order to use that money to fund our mission work."
But difficulties in the market mean those revenue goals have not been met since at least 2005, the earliest year for which data was available to the Camera. Profits have not exceeded 2.65 percent of expenses at any time during that period, far short of the 10 percent goal.
China's 'Green Fence' pummels prices
It's not just Eco-Cycle that is struggling.
Prices for all commodities are down, due to decreased demand from China, the world's top buyer. Paper prices, the lifeblood of the recycling industry, have dropped to $75 a ton in the third quarter of 2015 — half of what it sold for in 2011.
Facilities don't break even on glass, industry insiders say. The current rate for mixed glass — most common in single stream recylables — is -$18.50 per ton, meaning that processors have to pay to haul it away, according to Robert Boulange, president of Recycling Markets, an online commodity pricing index.
Recyclables have taken a double hit, with a 2013 policy change dubbed the "green fence" under which China began turning away low-quality, contaminated materials.
"(China is) such a huge buyer that recyclers are still figuring out what the market looks like (without them)," said Eric Heyboer, recycling grant program administrator at the Colorado Department of Health and Environment. "We're trying to figure out: How do we continue to sustain recycling given the economics of materials markets?"
Further complicating the dynamics is a serious supply/demand imbalance, according to Chaz Miller, director of advocacy and policy for the National Waste and Recycle Association.
"Recycling used to be fundamentally driven by supply and demand," Miller said. That changed in the early '90s with the advent of widespread recycling programs.
"(Now), the supply never ends — which is good," he said, but dramatic fluctuations in demand present significant challenges to maintaining a profitable business.
"No one is making money right now," said Eric Lombardi, who served as Eco-Cycle's executive director for 25 years before moving to an advocacy role on Eco-Cycle's international arm in 2014.
'The evolving ton'
Lombardi identified two primary challenges: There has been a significant drop in highly-profitable newsprint available to be recycled, thanks to the rise of digital news, and, on opposite side of the equation, a drop in demand for recycled newsprint.
In addition, he said, there has been a call to recycle ever-growing amounts of ultra-thin plastics, which are costly to recycle and bring very little on resale.
"There's been a real shift in what's in the recycling stream," said Sharon Kneiss, CEO of the NWRA. "We call it the evolving ton — (newsprint in production nationally) has been reduced since around 2000 by 18 million tons."
While other processors have abandoned recycling costly materials such as glass to cope with the shift toward plastic, Eco-Cycle has doubled down, expanding items accepted at the BCRC and the Center for Hard to Recycle Materials. On Dec. 1, CHaRM will begin accepting mattresses, a venture that is projected to add slightly to revenues.
It's not about the money, said Jones, but rather the environmental necessity of diverting waste from landfills.
"Even though markets are down, we still insist on recycling things like glass rather than sending it to the landfill, because that is the public good that (residents) have voted for," she said. "It's what's best for the planet.
"The measure shouldn't just be 'Are you making money?' — it should be 'Are you doing your mission to make the world a better place? On that one, we're way in the plus column."
In the meantime, Eco-Cycle is stepping up fundraising efforts and investing in new machinery to increase its recycling capabilities and capacity, reducing costs with automation and increasing potential revenue with new materials.
Within the next year, two new pieces of equipment will come online: An optical sorter for plastics that will help reduce contamination and make possible the salvaging of new types of plastics, and the addition of a second fiber bailer for cardboard, a highly profitable material.
"Cardboard coming in from the residential side has really spiked, and that's economically very good," Lombardi said, attributing the increase to the surge in online shopping from sites like Amazon. "There's great markets (for cardboard), and it's very recyclable."
Lombardi said Eco-Cycle is anticipating an influx of cardboard from Boulder businesses under a new ordinance that will require them to begin recycling in mid-2016.
Proposed zero waste regulations in the city and county should also help buoy revenues for Eco-Cycle as more materials come in.
"As the community recycles more, the Boulder County Recycling Center will make more revenues," Jones said, "which will benefit both the county and us."
Sharing the burden?
Also, for the first time in its 15-year history, the BCRC has begun charging haulers dropping off single-stream residential recyclables, a dramatic change from before, when haulers were actually paid for the material they delivered to the center.
In 2014, for instance, rebates paid to haulers for their materials averaged $5.50 per ton. But in April of this year, haulers began paying $5 to $15 per ton to drop off their recyclables.
Those are not tipping fees, but rather adjustments tied to market prices, said Harlin Savage, Eco-Cycle's communications director.
Other recycling facilities around the country have imposed tipping fees, a staple at landfills. That has in turn led haulers to seek their own fees on curbside pickups to offset the costs.
In Fort Collins, Gallegos Sanitation approached city officials in July about the possibility of charging customers a temporary fee after Larimer County Landfill's recycling center instituted a tipping charge, something the company estimated would cost them $700,000 for 2015.
City Council members at the time expressed concern over the idea, saying it would discourage recycling, the Coloradoan reported.
That's a fundamental flaw in the system, NWRA's Kneiss said.
"Making recycling attractive 20 years ago (meant) making it as easy and cheap as possible for people to recycle, and we were very successful," she said. "But it created the mindset that it doesn't cost anything to recycle."
That means when markets are down, as they are now, there is no sharing of risk — processors bear it all, threatening their existence.
There's no threat to Eco-Cycle, officials insist. The organization has a sizeable "rainy day fund" created by strong recyclables markets in the early 2000s.
"We have planned so (that) we should be able to weather this slump for a few years," said Jones.
Added Lombardi: "We're in a dip; we've been there before. We have survived at least three if not four of these in our 40-year history."
People always get unhappy when the market cycles through a low point, he said. But Eco-Cycle is "getting done what we need to get done to stay stable so that when the markets come back, they'll be happy again."
This article has been changed to clarify that Boulder County's reimbursements to Eco-Cycle for the operation of the recycling center have averaged $3.5 million annually since 2010.
•••••••••••••••••••••••
NRRA NEWS
2016 NRRA Conference: Call for Speakers-Presentation Proposals Now being Accepted

35th Northeast Resource Recovery Association Annual Conference
Monday, May 16th and Tuesday, May 17th, 2016 at The Nashua Radisson (aka, "The Castle")
Submission Deadline: Monday, January 4th, 2016 (Newly Extended!)
Individuals selected to give their presentation will be showcased in all conference materials and receive a complimentary registration (which includes breakfast and lunch) for both days of the Conference and Expo as well as an invitation to an exclusive pre-conference reception.
Possible topic areas
Trends in Plastic, Paper, glass or scrap metal recycling
Education and Outreach Programs
Electronics Recycling
Composting
Successful Regional/State Models
"Tricks of the Trade"
Transfer Station or MRF Operations
New Equipment
Household Hazardous Waste Reduction
Single Stream Recycling
Automated Collection
Facility Design & Efficiency
One Page Abstract Should Contain:
Proposed Title of Presentation
Speaker Name(s), Affiliation, Address, Email & Phone
Presenter Biography
5-6 sentences describing the presentation content (no more than a ½ page)
Prior speaking experience; has presentation been done at other conferences?
 If available, PowerPoint slides , or a link to a video presentation.
Presentation length. Sessions are typically 40-55 minutes (35-40 minutes for presentation with an additional 5-15 minutes for Q&A).  Please indicate if your presentation is expected to be that length or a fraction thereof (in which case we will try and find compatible speakers/presenters for the session).
Please email abstracts to info@nrra.net AND mnork@nrra.net
Submission Deadline: Monday, January 4th, 2016 (Newly Extended!)

Stay tuned to our Conference Webpage for updates: https://www.nrra.net/2016-conference-and-expo/
 *****************
Stay Connected with NRRA:
Learn about conference updates and latest news by following NRRA on
Facebook
Don't Forget to "Like" us…we want to get the word out!!! Help us get noticed by liking us on Facebook!
Twitter
and LinkedIn
 ***************** 
•••••••••••••••••••••••
SCHOOL NEWS YOU CAN USE
2015 School Conference – Call for Presentation Proposals
This year our conference has been scheduled in May so we hope to attract even more schools than ever to celebrate our Emerald Anniversary so we need you to bring us your very best proposals for school workshops!!  Has your organization, club, company or community been doing interesting or inspiring things in the world of waste reduction, recycling in relation to schools?  If so, then take advantage of an opportunity to present your information to fellow educators and students from the Northeast at the preeminent school recycling conference in New England.  This is a fantastic chance for Recycling Coordinators, Teachers, Students, Administrators, Solid Waste Managers, Volunteers, State/Federal Officials and Industry Representatives to exchange ideas, share philosophies and further promote waste reduction!
Please submit your proposal in the same format as above Call for NRRA Conference Speakers.  School conference presentation proposals should be directed to Gwen Erley.
 DEADLINE for Presentation Proposals:  Monday, January, 4, 2016 

For your presentation to be considered, please email your proposal to Gwen Erley at gerley@nrra.net and copy the email to info@nrra.net or to contact Gwen Erley call 1- 800-223-0150 x.19.
  *****************
Greetings from the School CLUB:
Our 35th Annual NRRA Recycling Conference & Expo is fast approaching.  This two-day event (May 16 & 17, 2016) brings municipal government, solid waste facility operators, waste management vendors and industry professionals together to exchange ideas, best practices and product information.
Day Two is our 7th Annual School Recycling Conference, devoted to our schools, teachers, students and administrators. Along with special activities and exhibits, we are putting together a "Fundraising for Schools" workshop to provide our teachers and students with a variety of ideas and products – recycled and/or ecofriendly – to support their recycling clubs.
You're Invited!  We invite you to be a speaker at this exciting and informative workshop – scheduled for May 17, 2016. After all, no one knows your program better than you! This is a great opportunity to make connections with schools all over New England by making a brief presentation and fielding questions from the audience.
You might also consider being an exhibitor for one or both days.  An exhibitor's booth  gives you that one-on-one opportunity to promote your programs and products to the larger spectrum of attendees.
If you cannot come, or send a representative, would you please consider sending promotional materials and samples that we could present on your behalf?  We hope to provide our schools with the widest possible variety of fundraising options.
I look forward to hearing from you and hope you can join us for this historic 35th Emerald Anniversary event.
Sincerely yours,
Gwen Erley
Northeast Resource Recovery Association
•••••••••••••••••••••••
NH THE BEAUTIFUL
Grants Program for NH Municipalities
Do you need equipment for your facility? A Floor Scale?  Storage Containers?  All New Hampshire municipalities are eligible to apply for grants toward the purchase price of recycling equipment.  For more information or to apply for a grant, go to http://www.nhthebeautiful.org/wp-content/uploads/2014/03/equipment_grant_app_710.pdf, print & fill out the form and fax it to 603-736-4402.  If you do not have access to the internet, please give us a call, and we can fax or mail a form to you.  The next NH the Beautiful Board Meeting will be on February 18th, 2o16.  Please submit your grant applications by February 1st to have them considered at this next meeting!
 *****************
NH the Beautiful Provides FREE Facility Signs

All NH municipalities are eligible to apply for FREE facility signs.  NHtB has been providing professional looking signs for NH municipalities since 1983.  Under the NHtB Sign Program, New Hampshire Municipalities are all eligible to apply for signs (60 points each fiscal year or until funds run out).  The NHtB fiscal year runs November 1-October 31.  If you have any questions, feel free to contact Stacey at 603-736-4401 x.20. To maximize your points, you can also order "recycled" signs or overlays for existing signs!
For a complete list of sign options and to order signs, click here  Complete Sign Packet.  Simply print the forms you need, mail or fax them to 603-736-4402.
Please NOTE!!! You can only use points to order signs that are on the list.  Words can be removed, but nothing can be added.  Custom signs are available for purchase.  Contact the NRRA for details.
 *****************
NHtB Also has Clear Stream Containers and 14-Gallon Recycling Bins for Sale at Discounted Prices 
Click the links below to find out how you can get yours!  Please note that effective July 1, 2015 the cost of the 14 gallon Curbside Recycling Bins have increased by .50 cents a bin.  We regret this unavoidable increase but assure you that these bins are still being offered at a great discounted rate to all Towns, Schools, Businesses and non-profit organization who apply. 
Click here for ClearStream info.
Click here for Curbside Recycling Bin info.
*****************
Visit NH the Beautiful on Facebook and Twitter
 To see all the latest that NH the Beautiful is doing for NH check out their Facebook Page! Click the following link –  https://www.facebook.com/pages/NH-The-Beautiful/253682871403932
 We are also on Twitter and Instagram
NH the Beautiful, Inc. (NHtB) is a private non-profit charitable trust founded in 1983 and supported by the soft drink, malt beverage, and grocery industries of New Hampshire. By offering municipal recycling grants (over $2.5 million) and signs, anti-litter programs, and technical assistance to recycling programs, NHtB is a unique organization that represents a voluntarily-funded alternative to expensive legislation intended to achieve the same end results.  NHtB supports the NRRA School Education Program (the Club).  The Northeast Resource Recovery Association (www.nrra.net) administers the New Hampshire the Beautiful programs.
••••••••••••••••••••••
NH DES NEWS
2016 SWOT Continuing Education Classes
For renewing Solid Waste Operators, DES will hold two workshops in early 2016.
January 21, 2016, 9am – Noon: Morning at the Movies (Repeat)
DES will show documentaries about waste management and DES staff will discuss how the topics from the documentaries relate to us here in New Hampshire.
February 25, 2016, 9am – Noon: Used Oil, Part II
DES staff will discuss used oil management at solid waste facilities. Topics will include:  why used oil is regulated; who from your community may bring it to your facility; used oil grants and a review of the BMPs for used oil.
These are currently the only two workshops available, so we encourage operators whose certification will expire before March 31 to attend.  Continue to check this website for additional information.  Please contact us at (603) 271-2938 or at solidwasteinfo@des.nh.gov to reserve a seat at one of these workshops.  Please visit the DES Solid Waste Facility Operator Training & Certification Program's website at: des.nh.gov/organization/divisions/waste/swrtas/index.htm for more information about the Program.
 *****************
Be a Green Santa: Make and Buy Upcycled Gifts
Tired of giving mass produced and cheaply made holiday gifts? Do you wish that you could give something special to your loved ones – a one of its kind? Then give some thought to upcycled gifts!
Upcycling is taking an old item or discarded material and breathing new life into it by transforming it into something useful, perhaps creating a decoration or piece of art. By upcycling you are not only creating something new and exciting that could be given as a gift, many people have made upcycling their hobby and sell their creations for some extra cash.
Upcycling also benefits the environment by repurposing items rather than sending things to be landfilled or purchasing a new item only to add to the waste stream in the future. If you have never heard of upcycling before now, or have never tried a do-it-yourself repurposing project, this is the perfect time of year as upcycled gifts are the new rage. Not only can upcycled gifts be inexpensive (or even free) to make, they show that you truly care enough to put time and effort into creating something for your friends and family that is original, creative and useful.
Rather than heading to crowded malls and swamped parking lots, upcycling allows you to shop at home in your basement or attic, or maybe on the top shelf of your closet where items go and seem to never be found again. You could also check out your local thrift shop, consignment gallery, flea market, antiques store or transfer station swap shop for unique items or ideas. Upcycling has no rules and no limits on creativity. As people become more aware of their environmental impact and planned obsolescence of items, purchasing upcycled gifts from artists is becoming an alternative to finding creative and useful gifts. If you're looking for inspiration, the internet can lead you to boundless ideas on how to repurpose almost anything.
So this holiday season, have some fun with upcycling. Regardless of whether you decide to create a clever gift from something you found in your basement or purchase an upcycled item from a local artisan, both will have a positive impact on our environment by reusing items that would have otherwise been tossed in the trash. And pass the word to your friends about upcycling. The more people reusing and repurposing items, the better!
••••••••••••••••••••••
NEW HAMPSHIRE NEWS
Local Bottler and Recycling Organization Team up to Tackle Glass Recycling Problem
By Josh Rosenson
BEDFORD – A partnership between a large NH company and a state-wide non-profit has the Coca-Cola Bottling Company of Northern New England (CCNNE) and New Hampshire the Beautiful (NHtB) leading the way in helping to solve the growing problem of recycling glass products.
Ray Dube, sustainability manager for CCNNE, is also a member of the NHtB Board of Directors. He summed up the glass recycling problem – an issue he says people are often shocked to learn exists – as consisting of two main challenges; public insistence on glass for certain products and the incredibly costly process of transporting and then recycling it.
The challenge glass poses begins with the marketplace, because while most vendors have
been trying to move away from glass, they immediately run up against consumer preference for glass. CCNNE, for example, uses glass for less than one percent of its products. But the liquor industry, in particular beer and wine purveyors, continues to struggle to sell products that are not in glass bottles after decades of the perception that glass holds a more quality product.
But while consumers have come to expect certain liquids in glass containers, most don't realize just how costly glass can be, and just how much glass can add to the carbon footprint of a product. Dube explains. "The first part of the problem is the weight of the bottles on the trucks for transport,"   adding that about half of each truck carrying glass bottles is empty due to weight limits on highways. While trucks can only be half-filled with glass, a truck can be filled full with plastic bottles. "The issue begins from the time you make the bottle and continues through to the bottling plant, on to the distribution plant, the transportation of that product, and then to the store. Finally, at the consumer's house it continues to be an issue when it leaves the household as trash and ends up at the dump or recycling station."
"You've got this massive use of fuel to move it around because it's so heavy. Aluminum and plastic are much, much lighter and use a lot less fuel to transport," Dube explains.
The second part of the problem is in recycling that glass. Something like a pickle jar or a wine bottle is recycled, but frequently breaks in the process. "Now you've got broken glass that contaminates other recyclables. It destroys the other commodities. That's why today, you are seeing glass get kicked out of recycling, pretty rapidly," adds Dube.
Glass was one of the first packaging materials to be recycled, and was the standard for beverages for hundreds of years.  But technological advancements in containers for liquids rapidly displaced glass.
"As soon as the technology to make plastic bottles became affordable, glass was quickly replaced with plastic," says Dube. And glass is a problem that goes beyond the beverage industry extending too many items in the grocery store. "Companies that can get out of glass are doing that at a rapid rate because frankly it's very energy intensive to reuse glass bottles and we don't have too many recycling solutions so the result is glass piling up." Dube says.
The non-profit recycling organization New Hampshire the Beautiful is making an effort to tackle the glass conundrum and has partnered with the Northeast Resource Recovery Association. Together the two organizations are working with the state to get more approval for using crushed glass for things like roadways and sidewalks as well as septic systems. Recycled crushed glass works very well as an under layer for many public works applications because it drains very well.
The goal is to repurpose the glass wherever possible, finding new markets and uses for recycled glass. Using it for roadways and sidewalks saves mountains from being dug up for gravel. However, while this effort is underway, Dube says, at present, most of the glass in the northeast coming out of recycling centers ends up in landfills as gravel to cover trash.
"That's not what people think of when it comes to recycling," says NHtB's Director John Dumais. "People recycle their glass dutifully and think it's going to have another more useful life but unfortunately much of the time it does not."
Dumais adds that the state will remain saddled with the problem until the market has more economical uses for recycled glass or until companies step in with entrepreneurial ways to reuse it and make a profit doing so, noting Budweiser just spent over $150 million on an aluminum bottling company so that it can move away from Bud in bottles. "I think the next big shock to the glass market is going to be the beer guys going to aluminum bottles," Dumais adds.
NHtB helps via education and funding, aiding towns with the purchase of glass crushers for transfer stations. It has also helped fund other novel equipment to turn glass into sand or gravel material. Dumais says some NH towns are using this aggregate for drainage ditches on the side of roads.
"For us, as a beverage company, glass is the only commodity we recycle that we have to pay to get rid of," Dube says, "It's costly for us to deal with."
CCNNE, NHtB and the Northeast Resource Recovery Association have also turned their attention to education around the complexity of glass, hoping to educate NH consumers. NHtB runs school programs across the state working to engage young people on the importance of recycling properly, including info on the negative impacts of glass products. Dube wearing his both his CCNNE and his NHtB hats has spent countless hours traversing the state to speak about the issue.
"I spend probably 100 work days a year teaching and glass is a major topic. It's so important to educate young people about the drawbacks of glass before they become 'addicted' to certain products being packaged in glass. We have to get them early to disrupt that expectation. Ultimately the best practice to help solve the glass recycling problem is for consumers to stop purchasing products in glass packaging. It's that simple"
Learn more about CCNNE at www.ccnne.com
 *****************
EPA honors Keene State for outreach campaign to reduce food waste
Matt Nanci, Keene Sentinel
Imagine a world where about one-third of all food produced is lost or wasted, and about a quarter of all calories never make it into peoples' mouths.
Now stop imagining, because that's reality, according to a 2013 report by the World Resources Institute and the United Nations Environment Programme.
"In a world full of hunger, volatile food prices, and social unrest, these statistics are more than just shocking: they are environmentally, morally and economically outrageous," according to the United Nations Environment Programme.
But Keene State was recently honored for making a difference. Along with 13 other institutions, the college received U.S. Environmental Protection Agency recognition for helping reduce food waste.
In the United States, the EPA is leading this charge, recently setting the country's first-ever goal to cut food waste in half by 2030.
Since 2011, the agency's Food Recovery Challenge has called for pledges from organizations and institutions to improve food management and sustainability and to reduce the amount of food that ends up in landfills.
Each year, the EPA recognizes challenge leaders; this year, Keene State received an award in the education and outreach category.
Keene State has participated in the agency's challenge since it started in 2011.
Heather Greenwood, Keene State's sustainable material management specialist, said she's proud of what the school has been able to accomplish.
"It shows the rest of campus and the region that we're really serious about it and care about what's happening," she said. "It's a big deal, the amount of food that gets wasted around the U.S."
In 2013, Americans generated 37 million tons of food waste, and 35 million of that went into landfills, while 1.84 million tons was recovered through composting, according to an EPA fact sheet from June 2015.
Keene State's outreach campaign is done in collaboration with the college's food services provider, Sodexo, according to Greenwood.
The campaign includes frequent food audits, a "spokesvegetable" and a mascot named "The Carrot," which tries to convey everything that goes into getting food onto our plates, such as where it's grown, how it travels and the resources required to do so, Greenwood said.
"The Carrot" can be seen on fliers and sometimes in person around campus presenting facts about preventing food waste and information about the progress made at Keene State.
Greenwood added that Sodexo also puts together a "waste buffet" a few times per year.
After students return their plates at the dining hall, food staff collect any food items that were untouched and put them on display, according to Greenwood. She said enough food is collected to fill a whole table.
This visual component of the college's campaign is part of why it has been so successful, Greenwood said.
"It makes something that's kind of like implied or not really tangible and it brings it to life," she said.
Over the past four years, Keene State has reduced its food waste by 30 tons, according to Greenwood.
This is the first national award the college has received from the EPA since joining the challenge. Keene State received three regional awards from 2012 to 2014 for outstanding achievement in food waste prevention and for demonstrated commitment to improving sustainable food management practices.
The college was recognized specifically this year for its campaign with Sodexo, but it also has a program called Eco-Reps, where students raise awareness about environmental issues. As with other efforts at the college, the Eco-Reps program has helped reduced food waste, Greenwood said.
Of the 14 organizations and institutions recognized by the EPA this year, four of them were in New England, which is no coincidence, according to Christine Beling, a project engineer who works on food recovery at the EPA.
"The region is just very progressive on this issue," she said.
Beling isn't on the committee that picks award winners, but said Keene State was selected because of the creativity, innovation and fun approach to its outreach campaign.
"Keene State was one of our early adopters of the food recovery challenge and we look forward to continuing to build their program with Keene State and Sodexo," Beling said. "Everybody has opportunities to do better and do more."
••••••••••••••••••••••
MASSACHUSETTS NEWS
MassDEP launches statewide food donation resource page
Amanda Beland, MetroWest Daily News
he Massachusetts Department of Environmental Protection is putting a new emphasis on donating food versus trashing food.
This November, RecyclingWorks, an organization funded by MassDEP, launched their "Food Donation Guidance for Massachusetts Businesses" page on the RecyclingWorks website.
"We were getting a noticeably increased volume of requests to get assistance for starting an effective donation program," said Lorenzo Macaluso, director of Green Business Services with RecyclingWorks. "The feedback we were getting was that corporations were having lots of questions on how to do it safely and legally."
RecyclingWorks connects businesses with services and resources to help them create or expand green operations, like recycling, composting and diverting food waste.
In 2014, Massachusetts instituted a commercial food waste ban for companies that dispose of one ton or more of organic waste per week. Since the ban, MassDEP and RecyclingWorks have made it an extra priority to help both businesses affected and not affected by the ban to divert food waste. One of the main ways to divert food waste is to donate edible food instead of discarding it. Most foods can be donated, but choosing the right unspoiled food, keeping it cold and transporting it to those who can eat are all critical aspects of developing a successful food donation program.
This is where RecyclingWorks comes in. The organization partnered with Harvard Food Law and Policy Clinic to generate fact sheets on food donation and date labeling to provide to organizations and businesses free of charge on the Food Donation Guidance page. Likewise, the page also provides links and information on local food rescue organizations and food banks, as well as food temperature and storing guidelines.
Macaluso said the page just launched in November so RecyclingWorks doesn't have statistics yet on who has been utilizing the resources and the links.
Businesses interested in starting a food donation program can visit the Food Donation Guidance page at http://www.recyclingworksma.com/donate/.
 *****************
SSRC Updates December 2015
November Board Meeting notes
MassDEP's Greg Cooper discusses Glass issues
Ewaste RFQ results
2015 HHW round up
SSRC awarded $82,000 SMRP grant
Sylvester School Green Machines learn about pizza box recycling
Paint Legislation nears vote 
Important mercury info from SEMASS
Mercury Levels Down in Freshwater Fish!
Mass. Textile Stakeholder Summit
NERC Glass Forum
Nat'l Product Stewardship Forum Tackles Drug Take-Back, Packaging, Climate Change
Trash talk at  COP21 in Paris
••••••••••••••••••••••
NATIONAL NEWS
How One South Carolina City Recycles its Cooking Oil
Chrissy Kadleck, Waste 360
Southern Fried Fuel. It's Columbia, S.C's. crispy solution for recycling cooking oil—a fluid, problematic waste stream that coats and clogs the drains of culinary kitchens throughout the city.
Since its founding in 2009, the city's Southern Fried Fuel program has collected an average of 1,000 gallons of used cooking oil per year.
"Everything from peanut to olive to canola is collected," says Samantha Yager, recycling coordinator for the city. The used cooking oil is taken to Midlands Biofuels, a local business, and then converted into Certified South Carolina biofuel to power two trucks in its fleet.
"The rest of our diesel fleet runs on B5, which means it is 5 percent biodiesel and 95 percent regular diesel," she says. "This is not only a cost savings for the city, but it also helps with our air quality initiative."
Biofuels produce 15 to 75 percent fewer greenhouse emissions than conventional fuels. Biodiesel is also better for an engine than conventional diesel, providing greater lubrication and leaving fewer particular deposits behind, she says.
"Obviously in the south we love our fried food, and this was just a way for us to recycle more items and transition our fleet to a more sustainable fuel system," she says. "You can gather around and be with family but with that used cooking oil you can also help the environment."
The Southern Fried Fuel program also helps with the city's storm water program, which has a "Trash the Grease" campaign that encourages residents to not pour used oil down the kitchen drain. The city suggests that residents bring in the used cooking oil in its original container.
"When fats, oils and grease are poured down the sink, it coats the inside of pipes and causes blockages causing sewer backups in homes and businesses," Yager says. "These can also create overflows into streams and creeks. Each year, the city spends an average of $1.5 million unclogging and cleaning waste water collection lines."
The key to growing the program and collection amounts is changing behavior, Yager says.
"Midlands Bio Fuels is growing and we feel that we want to grow with them and be able to provide them more oil," she says. "We want to provide access and convenience in all aspects of recycling, not just cooking oil. Midlands provide the service for free. We don't pay them to come collect it and they don't charge us to come collect it. It's just this great partnership. We're providing them something that they need, and then they're helping us by providing that end product of the bio diesel."
In 2016, Columbia hopes to expand its monthly collection to three fire stations to give residents additional convenient locations to recycling cooking oil, especially during the summer and holidays when residents are frying up everything from fish fries to turkeys.
"Our collections fluctuate two or 300 gallons a year but it really depends on what other special drop off events are being offered, and the weather," says Yager, adding that she has been working towards having cooking oil recycling at city-sponsored festivals. "Most festivals are frying some sort of food. This is just another opportunity to support a local business and educate on the benefits of recycling things other than what is collected curbside."
•••••••••••••••••••••
CLASSIFIEDS
 Help Wanted
Canterbury, NH Solid Waste Transfer Station & Recycling Center
The Town of Canterbury is seeking a part-time employee to cover vacation & sick days at the Transfer Station & Recycling Center. The facility is open to the public Wednesday evenings and Saturdays, as well as preparing material for shipment other weekdays. The successful candidate will be a certified Principal Solid Waste Operator with the State of NH, or have the necessary experience and education to obtain this status, have basic interpersonal and accounting skills, be timely and trustworthy, and be able to lift up to 75 lbs. Waste-management and/or heavy equipment experience is desirable, as is ability to work on short notice, should the shift be to cover illness. Hours for this position will not exceed 450 annually; wages will be commensurate with experience and abilities. This position may lead to a permanent part-time position with vacation and sick-leave benefits, but is currently to fill in as needed.
Interested parties should send a letter of interest, resume, and references to Ken Folsom at kfolsom@canterbury-nh.org or
Attention: Ken Folsom
Town Administrator
Town of Canterbury
PO Box 50010
Hackleboro Road
Canterbury, NH 03224
*********
Wanted to Buy
Town of Gilmanton needs 10 Wheeler
10 Wheeler w/hoist for roll-offs, does not need to be road worthy.  Need to move containers on site.
Contact:  Board of Selectmen or Town Administrator,Gilmanton, New Hampshire  03237   (603)267-6700
*********
For Sale
Diesel Hyster Forklift & Two Balers for Sale
The Town of Canaan, NH has the following items for sale, Please contact Mike Samson (603-523-4501 x 5)  if interested or if you have any questions.
1) 1986 Diesel Hyster H40 XL forklift,  Load capacity 4,000 lbs.
2) TWO , Advance Lifts Downstroke Balers BR9000 SN 18004 997A and BR9000 SN 18004 997B.  Looks like it's rated for 15 HP but I haven't climbed up to look.
Both in excellent condition. Acquired from NETC.
 *********
SPECTOR MANUFACTURING INC.-Trailer/Parts Sales

At Spector Manufacturing Inc. providing the highest level of customer satisfaction is our top priority. Founded in 1994, we have quickly grown to become an industry leader for all your demolition, construction, and waste management needs. We offer a wide variety of steel and aluminum moving floor, rear ejector, and dump trailers that can be custom tailored to meet your specifications. In addition, we also carry an extensive parts inventory to meet all your repair needs. Our on- site repair facility is open to all makes and models and our repair crew has a combined experience of over 40 years in the industry! In short, whatever your needs are, Spectec is here to help you take care of them.
Contact: Faller Enterprises LLC (603) 455-6336
Website: http://www.spectec.biz
*********
Selco Vertical Baler
Weathersfield, VT DPW has a used Selco Vertical Baler for sale.  Model# V5-HD.  Good working condition.  $5000.00 or Best Offer.  Contact Wesley Hazeltine at 802-291-3219 for more information.
••••••••••••••••••••••••
 NRRA CALENDAR
December
December 24th & 25th:  NRRA OFFICES CLOSED CHRISTMAS EVE/DAY
January
January 1st:  New Year's Day-Welcome 2016!

January 4th:  2016 Conference Speaker Proposals Due!!

January 13th: M.O.M Meeting at 9:00 a.m. NRRA Offices

January 13th: NRRA Board Meeting 10:30 a.m.-NRRA Offices